Do you have a PSP and want to enjoy PSP games on your PC? Do you want to play your favorite PSP game on the large screen of your system? Are you looking for the best and easiest way to get your PSP game on your computer or other devices? Do you have a PSP console but not working?
No worries, you have one of the best ways to install and play your PSP games on Windows, Android, macOS and even on Linux OS.
It is none other than PPSSPP, an emulator that lets you run your PSP games on your Windows PC and other platforms. Due to its amazing performance and features, it is one of the best PSP emulators which is widely used for almost any platform and enables you to enjoy your favorite PSP games in HD.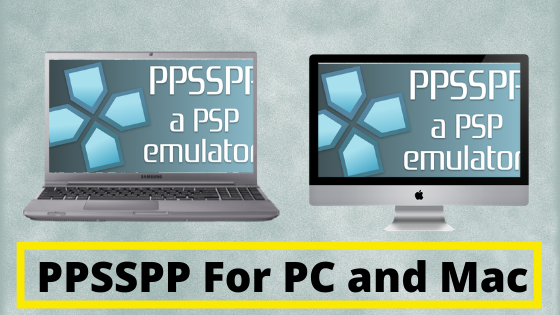 Many of you might be not familiar with PSP. This PlayStation Portable system is the first handheld console developed by Sony. It is an integrated portable entertainment system that is highly capable of handling the number of apps, such as music, videos, photos, wireless connectivity and games as the main feature of this console.
Now, when you have so many PSP emulators out there in the market, you may find it a little difficult to choose the one among all. So, these features of PPSSPP will help you to determine why this emulator is counted as the best in the huge list of PSP emulators.
Have a look at the wonderful features of the PPSSPP emulator.
Features of PPSSPP emulator
When you go through the features of any software or app, it provides you an opportunity to know more about what this particular product offers to its users as well as how you can take benefits by using it in different ways.
Now, you must go through these features to understand why PPSSPP is far better than other similar emulators.
This emulator allows you to play your favorite PSP games in high definition resolutions and even more. This gives you a much better gaming experience than the original console.
No matter on which device you want to use this emulator. It enables you to customize the controls and provides you the freedom to use an external controller or keyboard when using on PC.
You can stop and save the game state in between and can restore it anytime you want and anywhere.
The other features such as anisotropic filtering and texture scaling make this emulator more interesting and powerful than others.
The emulator comes with various conceivable options to configure the controls. There is no need to use Joy2Key or other things like this; it is so because PPSSPP has its own intuitive tool that covers everything.
PPSSPP emulator is something that is developed to enhance your gaming experience of the original PSP.
Being developed by one of the developers of Dolphin Emulator (An emulator to run Nintendo games for GameCube and Wii consoles) which is quite powerful and effective, PPSSPP has gained its reputation all around the world, all due to its performance, quality, and features.
The emulator offers numerous configuration options that need to be checked carefully before start using it.
We think, now we must move to the next section, where you will learn the steps to get the PPSSPP emulator on Windows PC.
How to Install PPSSPP on PC/Mac?
PPSSPP on PC and Mac works great while allowing you to play PSP games on the big screen of your computer without getting any problem.
Now, there are several things that make PPSSPP one of the best PSP emulators among others. But, providing you a chance to play games in full HD (1080p) is the major reason behind attracting millions of people around the world to use this emulator.
Moreover, graphics of this emulator are found to be much better than the original PSP console. What else do you want?
After knowing this, you will surely be thinking of getting a PPSSPP emulator on your PC/Mac, so that you can play and enjoy your favorite PSP games in your comfort zone. For this, it is advised to read this step by step guide carefully.
Installing PPSSPP on PC
There are a number of ways to install PPSSPP on PC. Here, we are using the simplest one.
Getting this emulator on your PC is simple and easier if you follow the given steps carefully. You will not get any issue and your PSP emulator will be on your PC within a few minutes.
First of all, you have to download BlueStacks (an Android emulator) on your PC. Just click the given download button.
Now, install it by following the instructions on the screen wisely.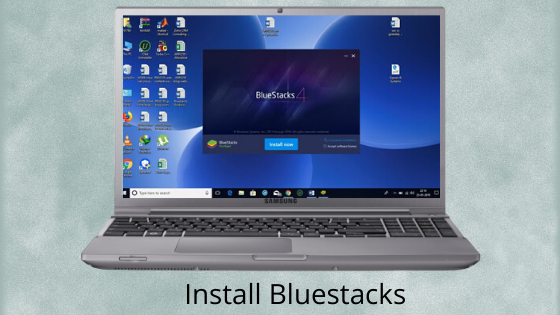 Once the installation steps are completed, a shortcut of the BlueStacks app will be added on the desktop.
Now, you require a Google Account to access the apps on Google Play Store. So if you don't have a Google Account, you must create one here.
Sign-in to your Google Account and open the Google Play Store.
Now, search for 'PPSSPP' in the Play Store and click the top result for the appropriate app.
Now, click on the Install button.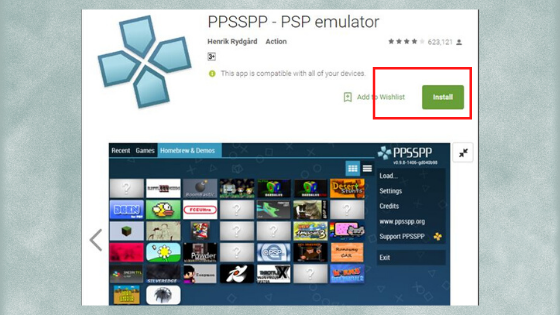 It will start the installation process and your PSP emulator will get installed within a few minutes.
Now, you can open the PPSSPP icon from the home screen of BlueStacks.
Get ready to play your games and have fun.
Note:
If you are unable to find any app in the Google Play Store, you can use its APK file. Like, you can download PPSSPP APK from here.
Setting up PPSSPP on PC
For using the PSP game on PPSSPP with better performance and quality, you require making certain changes in the settings of the emulator.
Open PPSPP and click on its Games settings.
Check if the Postprocessing shader option is Off.
Rendering Resolution is Auto by default, so you can change it as per your preference.
Now, click on More settings option.
Under the Graphics section, click on Backend and select your desired API.
Under Audio section, check Enable sound, set Audio Latency to Medium,
Under the Tools section, go to Developers options, you will find Enable Debug Logging option, so uncheck it.
Under the System section, uncheck the option Multithreaded (Experimental) and check the option Force Real Clock Sync.
Apart from these, there are various options available which you need to change attentively as they play a great role in the overall performance of the emulator.
Installing PSP game on PC using PPSSPP
After installing and setting up PPSSPP on Windows PC, now you can install and run your favorite PSP game easily and smoothly. So, let's learn how to install any PSP game on PC with the help of PPSSPP.
To run any PSP game on PPSSPP, you must have this game installed on your PC. You can install the ROMs from any dependable source on the web. For example, here we will install 'Secret Agent Clank', one of the PSP games.
Now, open the PPSSPP which you have already installed in the above section.
Go to the Games button.
Now, click on the browse button or you can simply click the respective drive from the emulator where you have installed the game 'Secret Agent Clank'.
Now, click on this game to open it.
Start playing your game and have fun.
PPSSPP on Android
When it comes to installing PPSSPP on Android, it can easily be installed from the Google Play Store as this Android version of this PSP emulator is available on the Play Store.
Search for PPSSPP on the Google Play Store. Once it is found, select it and click on the Install button. Have patience as the completion of the installation process may take a few minutes.
Once PPSSPP is installed on your Android device, you need to set up PPSSPP on Android.
Setting up PPSSPP on Android
You must know that some PSP games run perfectly on Android, while some lag. So, the best way is to have the best settings of the emulator on your device, so that you do not experience any issue while playing PSP games on your Android.
Click the Graphics Settings and then click Graphics.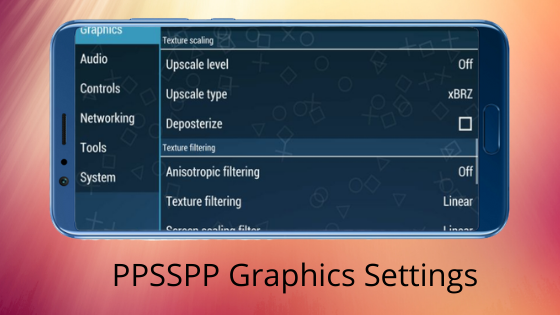 Set Mode option to Non-buffered rendering.
Check these options – Simulate block transfer, Auto frameskip and Prevent FPS from exceeding 60.
For the Display Resolution option, select Native Device Resolution.
Turn off the option Anisotropic filtering.
Select the medium for the Spline Bezier Curves Quality option.
Now, under the System section, check the option – Fast Memory and I/O on thread.
Now open Developer Options and select Dynarec (JIT) under CPU Core
PPSSPP – Is this PSP Emulator Safe and Legal?
When we use any app, the very first question hits our mind is it safe and legal to use? Is using this app will not affect the security and privacy of our device?
Let's clear your doubts if you are thinking the same for PPSSPP.
PPSSPP – Safe?
Yes, this PSP emulator is completely safe to use across various platforms. It does not contain any virus and malware, but when you are going to download PPSSPP, make sure to use the reliable source.
PPSSPP – Legal?
Yes, this PSP emulator is completely legal to use. It is just a software/app which is used to provide you a medium to play PSP games on different platforms. So, you can use PPSSPP on any platform without any fear of legal restrictions.
System Requirements for PPSSPP
One thing you must always keep in mind is that any latest machine with powerful graphics card would never give you any issue for using any kind of emulator.
Even if you have an old system, you can still be able to run the emulator, but it should meet the minimum requirements. Many people have come up with the issues while installing or running PPSSPP on their Windows PC. One main reason found is the lack of required specifications that do not let you run this PSP emulator smoothly.
Before installing PPSSPP on your PC, it would be good to confirm whether your system meets these minimum requirements or not.
Operating System – Windows XP, Windows Vista, Windows 7, Windows 8, or Windows 10
Processor – Dual-Core CPU, Single-Core CPU of minimum 2.0GHz
Memory – 2GB RAM
Hard Drive – 5GB minimum free disk space
Note:
If your system has higher specifications, it will run PPSSPP better and provide great performance.
Alternatives to PPSSPP
There is nothing to worry about if you want to test and experience the performance, graphics, and quality of your favorite PSP game on an emulator other than PPSSPP. You have the number of PSP emulators out there that ensure to work in the same way as PPSSPP does.
Here are some of the alternatives to PPSSPP.
PCSX2
PSX Emulator
Nostlan
RetroArch
PCSP
And any more…
No matter what alternative you will choose, all these PSP emulators work great in allowing you to install and run your PSP games on different platforms, Windows, macOS, Android, etc. You may find some differences in their features, but they all are wonderful in delivering the best PSP gaming experience.
These emulators offer a great solution where you need not buy a PSP console to play and enjoy its exclusive games. These can easily be played on the PC and even on your mobile phone using the emulator.
Final Words
Now, you need not worry about playing your PSP games, even if you do not have a PlayStation or it has been broken.
Overall, it is recommended to give one try to PPSSPP to gain the gaming experience that may not be possible in another way. Simply, go through this guide to get the key information about PPSSPP to be more familiar with this emulator.
So, instead of wasting time, start using these steps to get this PSP emulator on your Windows PC.